Extreme KB Conditioning - 28 Day Challenge
Hello!
Forest Vance here from Kettlebell Basics (Facebook) and ForestVance.com
This message is for all kettlebell fans who:
- Take your conditioning to the next level
- Shed fat in the process
- Improve performance
- Increase aerobic capacity
- Become EXTREMELY fit
I invite you to join us for our upcoming 28 Day Extreme KB Conditioning Challenge.
I am going to give you all the details in just a moment, but first, I want to share with you a quick story that I think does a great job illustrating what this Challenge is all about :)
11 years ago - in 2007 - was when I was first introduced to kettlebells.
I had a training partner at the time who brought his 35# KB in one day to use in the "finisher" at the end of our training session - you know, a tough circuit to really end the workout with a BANG!
I remember thinking - "ya right - that baby KB is going to be WAY to light for me!"
Because I am a decently strong guy, I am used to lifting some decent-sized weights, I'm thinking the 35-pounder just won't do anything.
BOY was I wrong!
I was TOTALLY smoked, in a good way.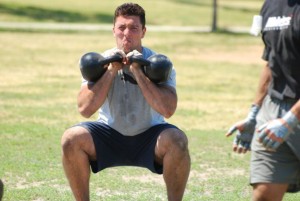 I had never really experienced anything quite like it!
I was also instantly hooked. For the next few months, I used KBs almost every day in my training, and was loving it.
BUT - I also had a feeling my form wasn't totally on point. I wasn't sure if I was getting everything I could out of the training. And also I didn't really think thorugh the way the workouts were put together - I knew I could be progressing BETTER, if I had help.
So I hired a coach.
And that's when my results went thru the ROOF.
My form was NOT good, turns out :) ... so that was a big part of it ... but also just having an expert to help me really dial in and refine my form, made a huge huge difference.
THAT is what the Extreme KB Conditioning - 28 Day Challenge is all about.
I give you the workouts to do every week of the Challenge, that are going to help you shed fat and take your fitness to extreme levels.
But it's also the COACHING and accountability and everything else that sets this apart.
You check in after every workout so that you stay on track. I can give you feedback on your exercise form. I will post videos specific to the workouts you are doing with extra tips and tricks and advice.
If it sounds like this is something that you need, here's your offical invite to join us for the upcoming Extreme KB Conditioning - 28 Day Challenge!
Here is a recap of the details and how it works:
- 28 day program - starts Monday, March 5th, 2018
- Limited to 30 participants max (14 or so pre-filled by existing group coaching clients - if this page is up and live, we still have spots left!)
- New workouts delivered to you every week - tell you exactly what to do and how to do it, very detailed, with video demos etc
- You need a couple of KBs to do the workouts - ideally a 8k or 12k and a 16k or 20k for women, and a 12k or 16k and a 20k or 24k for men
- I give you a copy of my "Feed the Beast" diet plan - includes a full 18 meal plans, with 'general balanced', paleo, and vegetarian versions to pick from - so that there are options for almost ANYone, and so that you know exactly what to eat and when to eat it to get the results
- We have a private FB group for all folks in the Challenge - you check in after every workout, get feedback, accountability and support
- We have a video coaching session - where I answer your questions, give you KB training tips specific to the workouts we are doing, etc - every week of the Challenge
The cost for the full program, everything listed above, is 89 USD.
If you have questions of any kind, let me know, I am happy to help. Shoot an email to forest (at) forestvancetraining.com, and I'll get back to you as soon as I can.
If you are ready to rock, fill out the form below with your personal info / preferred payment method, and we'll get started right away!
Thanks again -
- Forest Vance, ForestVance.com